+ Toggle navigation
Actualités
TTK Middle East in ADIPEC Oil & Gas Event
01/12/2014
This November, TTK is present in Abu Dhabi for the second consecutive year participation in ADIPEC: the largest Oil & Gas event.
Compared to last year, even more clients have visited our stand and shown their interest in our leak detection systems. Many prospective customers have approached our team during the 4 busy days exhibition.
Look at TTK team interviews with ADIPEC TV:
Christophe, TTK regional manager in interview:
Raul, TTK Oil & Gas Division manager in interview:
TTK in UAE-France Oil and Gas Symposium
25/11/2014
As one of the French companies presenting the latest innovations and technologies, TTK has joined the UAE-France Oil and Gas Symposium this week in Abu Dhabi.
This two-day event is a government initiative and object to boost trade and communications between the two countries.
TTK's oil leak detection sense cable FG-OD was presented on the symposium by the O&G division manager and the sales manager. The system has attracted much interest from local companies.
« The symposium is an ideal platform to explore potential opportunities for future cooperation to help address the various technological and logistical challenges that face the local industry as it endeavors to meet Abu Dhabi's future needs for clean energy, while also sustaining its position as a world leading and reliable energy producer. » Resumed the local journal Zawya.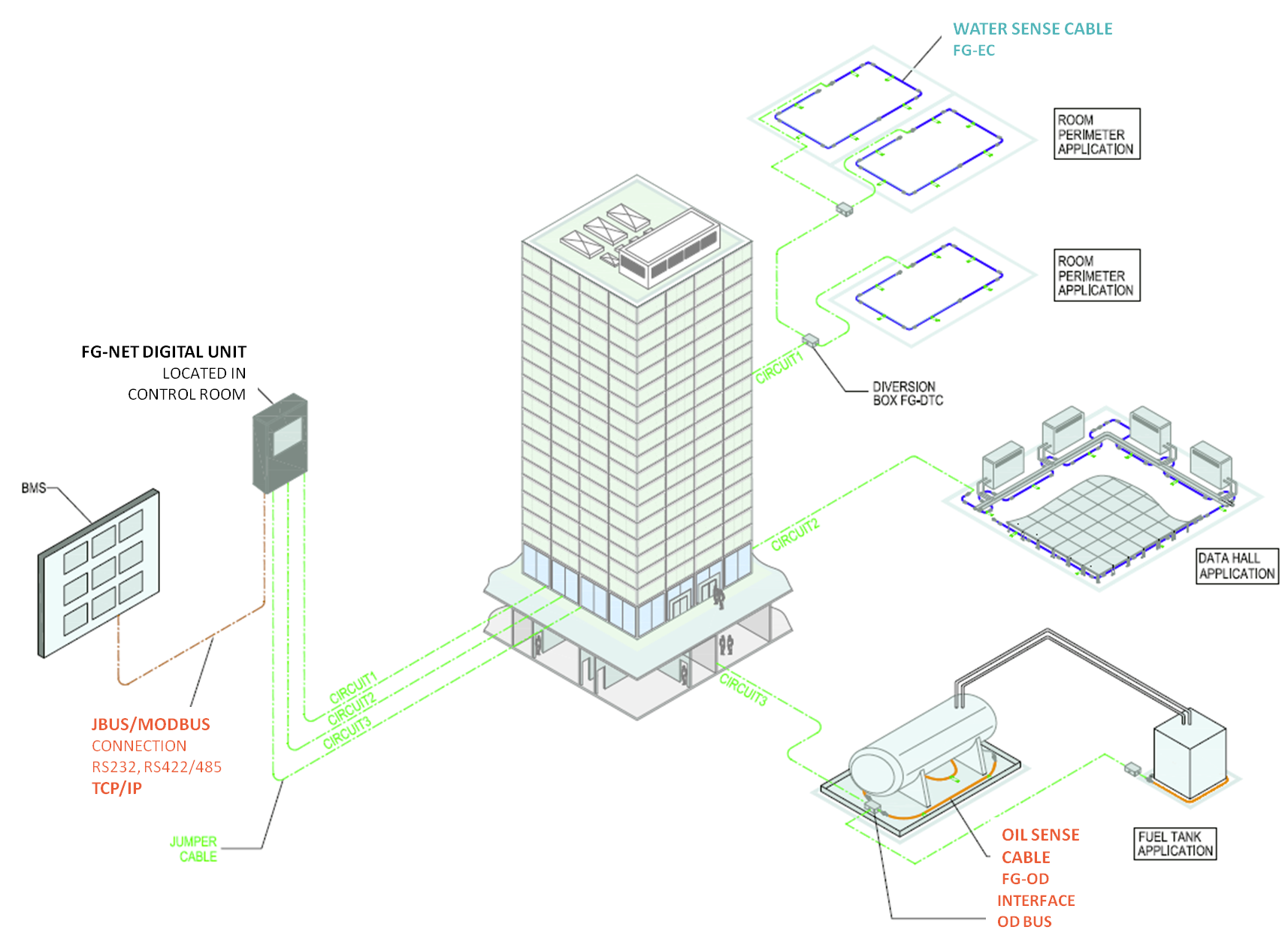 Need to Protect Your Premises From Both Water and Oil Leaks? What You Need is A FG-NET Digital Panel!
18/06/2014
Need to Protect Your Premises From Both Water and Oil Leaks? What You Need is A FG-NET Digital Panel!
How it works?
With 3 independent circuits, a FG-NET or FG-SYS digital unit is capable of monitoring and protecting a whole building, from different leak risks, as the below schematic example shows:
The FG-NET is connected and report to the BMS;
Its first circuit protects several rooms on different floors — with Water Sense Cables;
Its second circuit protects a data hall — with Water Sense Cables;
Its third circuit protects the generator and a fuel tank which feeds the generator — with Oil Sense Cables.
Why it works?
TTK digital panels can detect simultaneous leaks, multiple alarms will be shown on the screen in this case. No single leak is missed.
Up to 1800 meters straight line distance can be monitored by a TTK digital panel. That's more than 4 times larger than the perimeter of a soccer field. Up to 7500 meters for FG-NET when combined with FG-BBOX devices.
Flexible system design: Whatever the buildings architectural design, TTK digital systems will suit it by using both linear and sector installations. (Know more about system design)
No need for any slave panel. Each sense cable is independent, it acts as a leak detector and at same time a slave device transmitting information to the panel.
TTK digital panels are robust. The expected life time is more than 15 years.
The Advantages with Only 1 FG-NET Panel
Less equipments to be installed.
Reduced maintenance costs.
Information is centralized on the sole digital panel and on the BMS.
Easy installation and simple system extension.
So why complicate things when we can make it simple — with only 1 digital panel?